How to Rotate Tires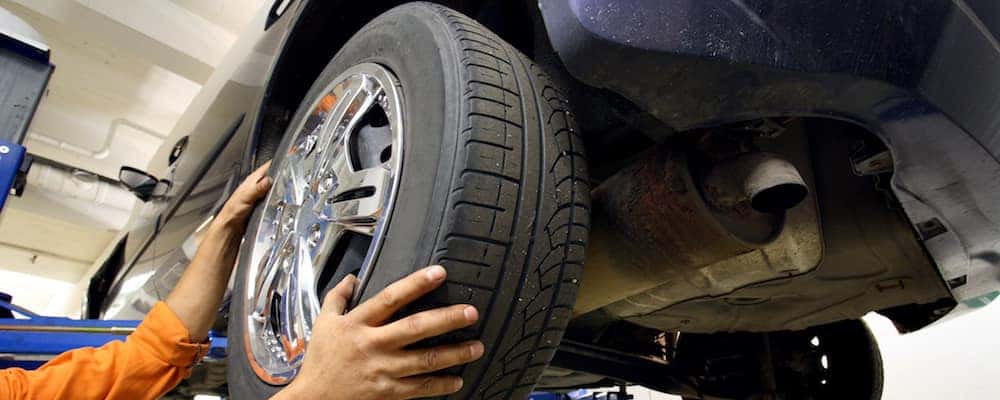 Tire rotation is a vital part of vehicle health you don't want to skip, no matter if you rotate your tires at home, or have the our DFW-area service department handle it. Make sure to keep up with regular tire rotations to keep your new or used Jaguar safe on the streets of Fort Worth. Read on to learn more with our tire rotation guide to keep your tires healthy for years to come.
Why is Tire Rotation Necessary?
Your tires will not wear evenly over time. Your driving habits affect the speed at which they wear, and front tires tend to wear more quickly, and less evenly, than rear tires. Where the engine directs the majority of its power, front-wheel drive or rear-wheel drive, also affects wear. Not rotating your tires means they'll wear down at different rates, and they'll need to be replaced much sooner.
How Often to Rotate Your Tires
On average, you'll need to rotate tires on front-and-rear-wheel drive cars every 5,000-7,500 miles. All-wheel drive models, like a Jaguar Dynamic All Wheel Drive vehicle, should rotate tires every 3,000-5,000 miles. Like any service your vehicle may need, you should always check your owner's manual for exact specifications and figures.
Tire Position
FWD Tires: When rotating the tires, you can move the front tires directly backwards. But when moving the rear tires to the front, you must switch sides. So the rear left tire will go the front right position, and so on.
RWD Tires: For a rear-wheel drive model, its the opposite. Rear tires move directly forward, but the front tires must switch sides when moving back. So the front left tire will be moved to the rear right position.
Rotating Your Tires
For an at home tire rotation, you'll need a few items: a lug nut wrench, a car jack, and a set of car jacks. Follow these steps once you have these items:
Engage the parking brake
To make lug nut removal easier later on, loosen all lug nuts on all four wheels, but do not completely take them off.
Using the jack, lift up one wheel and place the jack stand underneath the vehicle
Remove the tires either one by one until they're all removed, or in the pairs they'll be rotated with
Check to make sure the tires are filled with the proper tire pressure. When properly filled, rotate the tires as directed. Place them on the wheel mount, and screw the lug nuts on by hand as far as you can. Make sure the TPMS light doesn't go on once you turn the car on later.
Lower the vehicle from the jack stands. Finish tightening the nuts using the lug nut wrench Tighten in a diagonal, star pattern for evening tightening. The brake rotor may wrap without proper tightening.
Get Tire Service at Autobahn Jaguar Fort Worth
If you're not ready to rotate on your own, don't worry! The service experts at Autobahn Jaguar Fort Worth can help you with all your Jaguar service needs. View our Jaguar EliteCare program or schedule service in Fort Worth today! If you have any questions or concerns, don't hesitate to contact us, and rely on Autobahn Jaguar Fort Worth for essential automotive tips like how to jump-start your car or how much a transmission costs.
More From Autobahn Jaguar Fort Worth
Check out this gorgeous example of a 2022 Jaguar F-PACE S! The exterior is in Fuji White, and the interior is dressed in Ebony with the lovely and luxurious Windsor leather seats that are also heated and cooled. Other fantastic options on this F-PACE include the Convenience Pack, Meridian Surround Sound System, Adaptive Cruise Control,…

Check out this stunning 2022 Jaguar F-Type Convertible in Firenze Red! The F-Type is Jaguar design in its most athletic form – sleek and graceful from any angle. The convertible gives drivers the freedom and carefree attitude to be true to who they are. The LED headlights and taillights display the aerodynamic yet muscular stance…

Purple is the new black… Inspired by Jaguar's rich racing legacy and created by the personalization specialists at SV Bespoke, the exclusive Jaguar F-PACE SVR Edition 1988 is the first limited edition of Jaguar's high-performance SUV. With only 394 examples, it perfectly embodies stunning modern luxury and raw Jaguar power. Details are everywhere in the…