Meridian™ Sound in Your Jaguar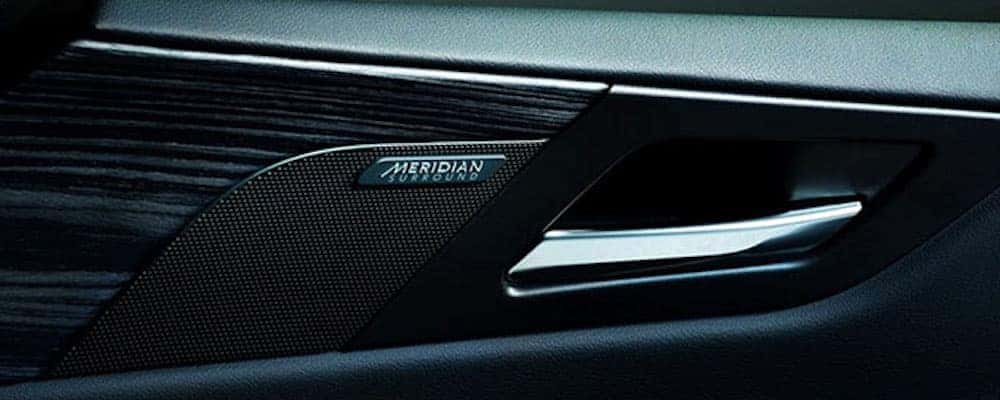 When you're behind the wheel of a Jaguar, no aspect of your drive should be anything less than extraordinary. In order to provide an auditory experience that's every bit as satisfying as your vehicle's powertrain, Jaguar has begun to offer many of their new vehicles with Meridian™ audio systems that leave nothing to be desired. Meridian™ sound uses strategically placed speakers and next-generation technology in order to render your favorite music and audio programs with clarity that rivals live performance, and once you've heard it for yourself, you won't be able to settle for any other audio tech. Learn more below, then explore more technologies like Jaguar InControl® Apps™ at Autobahn Jaguar Fort Worth.
Meridian™ Sound Systems
When you drive with Jaguar, you'll have the opportunity to explore three distinct Meridian™ audio systems. Compare and contrast them here:
Meridian™ Sound System: Even the most stripped-down version of this audio system delivers 380 watts, as many as 14 speakers, and a dual-channel subwoofer. Exact features can vary depending on whether you select a Touch or TouchPro™ infotainment system.
Meridian™ Surround Sound System: With the surround sound upgrade, you'll benefit from 20 speakers, including a dual-channel subwoofer, all powered by 825 watts! Trifield™ technology, available only on Meridian™ systems, blends the left and right channels with the center and surround feeds in order to provide an unparalleled three-dimensional experience.
Meridian™ Signature Sound System: The high-end Meridian™ Signature sound system, composed of up to 26 speakers powers your music with 1300 watts and a dual-channel subwoofer. This system includes improved Trifield™ 3D technology and uses Digital Dithering in order to construct the high-fidelity reproductions of your audio files, even when they're a little rough around the edges.
In all cases, the system's features and speaker arrangement may vary depending on what Jaguar vehicle you select.
Meridian™ Sound Technology
Technologies like Trifield™ and Digital Dithering allow your Jaguar to work smarter, and not just harder, when playing your music and audio files on the roads of Parker County and . Explore each of these technologies in depth before you visit:
Digital Signal Processing (DSP): DSP puts each of your Meridian™ audio system speakers into communication with the whole. Each speaker processes the audio signal and works in concert with the others to provide the ideal mix and balance.
Meridian™ Digital Dither Shaping: Whether you're listening to the radio or playing lo-fi mp3s that you found online, you'll find that things just sound better in your Jaguar. Digital Dither Shaping interprets every signal conversion and reproduces your music without loss.
Trifield™ and Trifield™ 3D: Trifield™ technology intelligently blends the audio from the four channels–center, surround, left, and right–that comprise your Meridian™ sound system. With the Signature Sound System, standard Trifield™ is replaced by Trifield™ 3D, which manages speaker interaction in order to create the illusion of a wider, more spacious cabin.
Meridian™ Cabin Correction: With Cabin Correction technology, your Meridian™ sound system will automatically compensate for unwanted noise. An advanced algorithm alters the sound produced by your speakers in order to mitigate the effects of your cabin's shape and materials.
Your Music, as It Was Meant to Be Heard
If you're ready to choose your next new vehicle, schedule a test drive at Autobahn Jaguar Fort Worth near Johnson County to find out what Meridian™ Sound is capable of. While you're at it, take a closer look at other top technologies like Jaguar inControl®. Whether you settle on a new SUV like the Jaguar F-PACE, or a new sport sedan like the Jaguar XE, we're sure you'll love what you encounter in your choice's interior.
More From Autobahn Jaguar Fort Worth
 The ultimate performance SUV: 2023 Jaguar F-PACE SVR. With a 5-liter supercharged V8 that makes 550hp and 516 lb-ft of torque, the F-PACE SVR can hit 0-60 in 3.8 seconds! In contrast to the F-PACE, the SVR has more oversized air intakes, side fender vents, rear spoiler, and hood vents to increase downforce and…

 For 2023, the Jaguar F-Type R remains as the pulse-quickening and pure Jaguar sports car! The R retains the glorious 5.0L V8 with 575hp and 516 lb-ft of torque and the 8-speed automatic transmission. This combination sends the F-Type R from 0 – 60 in 3.5 seconds! This specific example is in Fuji White…

Check out this gorgeous example of a 2022 Jaguar F-PACE S! The exterior is in Fuji White, and the interior is dressed in Ebony with the lovely and luxurious Windsor leather seats that are also heated and cooled. Other fantastic options on this F-PACE include the Convenience Pack, Meridian Surround Sound System, Adaptive Cruise Control,…