How to Clean Leather Car Seats

If you have leather upholstery in your new car and you enjoy DIY auto maintenance or cleaning in general, Autobahn Jaguar Fort Worth has some tips for you. Find out how to clean and condition your leather car seats to make sure they last for a long time to come on Dallas-Fort Worth roads. Contact your local authorized Jaguar retailer if you have any questions!
Steps for Leather Car Seat Cleaning
Cleaning Supplies 
One of the following solutions: saddle soap, mild leather soap, leather cleaner, or a mixture of 1 part white vinegar/2 parts linseed oil
Interior brush (soft-bristled, NOT a stiff carpet brush)
Microfiber towels
Instructions:
Before purchasing any cleaning supplies, look in your owner's manual to see if they mention any products that you should or shouldn't use on your seats.
Vacuum the seats gently to remove bigger dirt and particles, trying not to scratch the leather. Smaller attachments or even an air compressor are good for getting into the cracks of the seats and between the seats.
If your car has perforated leather seats, be sure to spray any cleaning solution onto the towel and not onto the seats directly to avoid getting excess moisture inside the seats.
To remove surface dirt and oils, spray your leather cleaner on a clean microfiber towel and wipe the seats.
To get out stains or more stubborn dirt, spray cleaner onto a soft-bristle brush and gently scrub the surface.
Wipe the seats with a clean and dry microfiber towel, and let the seats dry before sitting down again.
How to Condition Leather Car Seats
The regular application of leather conditioner helps to prevent cracks and dryness while preserving the softness of the leather.
Before purchasing a leather conditioner, check the ingredients–make sure there are only natural ingredients, avoiding things like petroleum distillates, waxes, and silicones.
Apply a small amount of conditioner on a clean microfiber cloth.
Work the conditioner gently into the leather in circles.
Make sure the conditioner soaks into the leather fully (about an hour) before touching the upholstery.
Keep the seats out of the sun while the conditioner is absorbing into the seats, so it can fully absorb without drying up prematurely.
Once the seats have fully absorbed the conditioner, gently buff them with a new microfiber cloth.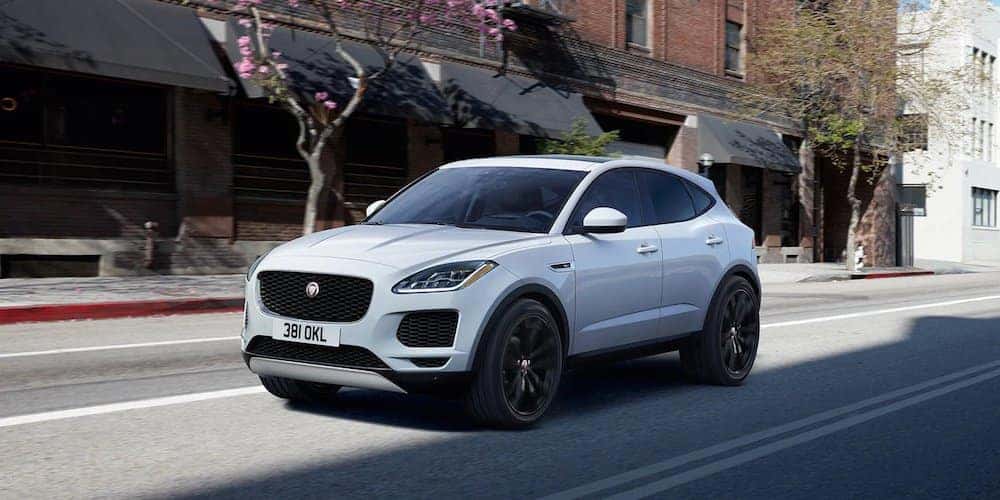 More Leather Care Tips
Keep microfiber cloths and cleaning solution in your car to clean your seats of dust, spills and debris as they appear. This will prevent long-term damage to your car interior.
If you have a garage, store your vehicle in it as much as possible. Protecting your vehicle from exposure to extreme temperatures may prolong the life of the leather.
When driving around the DFW area, park your car in the shade as much as possible to reduce sun bleaching or sun damage to the seats.
Maintain Your Vehicle With Help From Autobahn Jaguar Fort Worth
If you'd rather leave your vehicle maintenance to the professionals, rely on the Jaguar-certified technicians at Autobahn Jaguar Fort Worth. Schedule service near Dallas-Fort Worth, then get more luxury car care tips from our knowledgeable staff!
---
Explore Our Models
Jaguar Keyless Entry is available on the 2020 Jaguar XE and the rest of the new Jaguar models in Grapevine. Find out at Autobahn Jaguar Fort Worth how this technology allows you to effortlessly enter your vehicle, adding convenience to your life and enhancing the security of your drives. Then contact your local authorized Jaguar retailer to schedule a test drive…

Drivers in Dallas-Fort Worth who want to take home an elegant luxury sedan that sets itself apart inside and out should explore the 2019 Jaguar XJ. Take a closer look at the flagship Jaguar sedan's premium interior at Autobahn Jaguar Fort Worth, then contact your local authorized Jaguar retailer to schedule a test drive and get a feel…

Dallas-Fort Worth drivers looking for a performance-focused luxury sedan with excellent mpg ratings should look no further than the 2019 Jaguar XE. Delivering as much as 32 mpg city/42 mpg highway, the new Jaguar XE is a truly remarkable sedan. Explore the XE mpg in-depth with Autobahn Jaguar Fort Worth, then contact us to arrange your test drive…